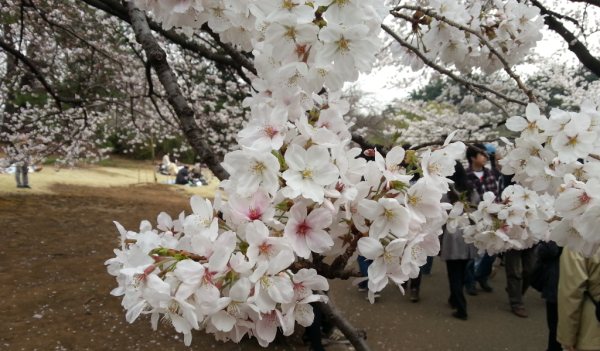 日本人は、桜の花が好きである。三月も半ばに入ると、天気予報でもいつ桜が満開になるか情報を流している。「今週満開らしいよ。」という情報を聞きつけると、皆こぞって、「それじゃあ、次の週末はお花見をしよう。」と計画を立てるのである。
Japanese people like cherry blossoms. From the middle of March, the weather forecast starts to give us information about when cherry blossoms will bloom completely. If someone says: "I heard that cherry blossoms will bloom well this week.", everybody begins to make plans and ask their friends "Let's go to cherry blossom viewing this weekend."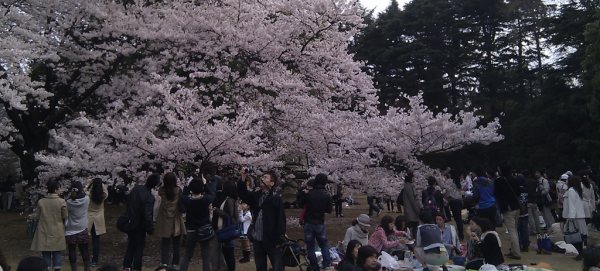 日本の「お花見」は、文字どうり桜の花を見ることを楽しむのであるが、それにはあまり時間をかけず、友人達、同僚、家族などの大勢で、桜の木の下にビニールシートを敷いて、そこで食べ物やお酒を楽しむことがメインになっている。特にサラリーマンなどがいい気分で酔っ払い始めると、桜のことなどすっかり忘れ、ただの飲み会と化している光景がよく見られる。
During Japanese "cherry blossom viewing", people literally enjoy watching cherry blossoms. But they don't spend so much time watching them. The main part of "cherry blossom viewing" is that people put a tarpaulin under a cherry tree, sit down and enjoy eating good food and drinking alcohol with friends, coworkers or family. Especially when Japanese salary men begin to get drunk, they forget cherry blossoms completely, this often turns into a normal drinking party.
昼間の桜はもちろん美しいが、日が落ちてからライトアップされた桜もまた神秘的な美しさを持っている。お酒を飲みながらのお花見もいいが、花だけをじっくりと眺めるのも、また乙なものである。
Cherry blossoms in daytime are of course beautiful, but when they are lightened up at night they have a mysterious beauty. Cherry blossom viewing with drinking is fun, however just taking a long look at cherry blossoms is also a nice thing.